Firm News
RKJ is Growing
The firm welcomes Jennifer Rabin and Andrew Abreu.
Jennifer Rabin joined the firm in November 2021, initially to assist with the administrative transition from McCabe Rabin to Rabin Kammerer Johnson (RKJ). The firm recently elevated her to the position of Chief Administrative Officer. Before joining the firm, Jennifer practiced law as an attorney for 27 years. Jennifer most recently practiced intellectual property law, including trademark prosecution and licensing, with Akerman in its West Palm Beach office from 2001 until 2019. Before joining Akerman, Jennifer practiced intellectual property law with two large firms in Denver, Colorado and started out her career at as a corporate lawyer with Steel Hector & Davis in Miami. To see Jennifer's bio, click here. To congratulate or reach Jennifer, you can email her at jrabin@rkjlawgroup.com.
Andrew Abreu is a new associate with the firm. Andrew graduated from Wake Forest University School of Law, where he attended on a full-merit scholarship. During law school, Andrew was a member of the Wake Forest Law Review and interned for U.S. Magistrate Judge Lauren F. Louis in the Southern District of Florida. Before entering law school, Andrew attended the University of Central Florida, graduating cum laude and double majoring in Political Science and Economics. To view Andrew's bio, click here. To congratulate or reach Andrew, you can email him at aabreu@rkjlawgroup.com.
---
RKJ Prevails on Behalf of Manufacturer of Self-Brewing Equipment Against Claims for Violations of Florida Securities Laws and Fraud


Adam Rabin and Lauren Johnson, with its co-counsel Fred Cunningham and Matthew Christ, recently secured the dismissal of securities registration and fraud claims asserted against its client, third-party defendant Brew First, Inc. ("Brew First"), which is a manufacturer of kegs and tap machines that allow customers to brew their own beer, hard seltzer, and wine. The Southern District of Florida case is styled Matthew Hayden v. Steven F. Urvan v. Brew First, Inc., Case No. 21-cv-82051 ("Action") and remains pending between the plaintiff and defendant.
In the Action, the plaintiff sued the defendant over a contractual fee that defendant contended he was not obligated to pay.  In addition to answering the plaintiff's claims, however, the defendant asserted third-party claims against Brew First for securities fraud (§ 517.301, Fla. Stat.); failure to register as an "issuer" or "dealer" (§ 517.12, Fla. Stat.); and direct and vicarious liability for common law fraud.  The claims arose from an investment the defendant's company made in Brew First in 2018, allegedly in reliance upon representations and omissions that plaintiff and Brew First made about Brew First's financial condition.
Brew First filed a motion to dismiss all defendant's third-party claims against it. As to the securities registration claims–which were filed in 2022—Brew First argued, in part, that the two-year statute of limitations (§ 95.11(4)(e), Fla. Stat.) barred defendant's claims.  Specifically, Brew First argued that its investment documents, which were sent to defendant in 2018, expressly state that Brew First was not registered because they were exempt from registration requirements.  Thus, it argued defendant knew the facts giving rise to the registration claims when the investment was made in 2018. In response, Defendant argued that Brew First was mischaracterizing his claims because he was not claiming that Brew First sold unregistered securities, but instead that Brew First acted as an unregistered dealer and issuer of securities and, therefore, he did not know the facts giving rise to his claims at the time of the investment.  The Court, however, rejected defendant's argument, holding that defendant knew that Brew First had treated the entire investment transaction as exempt—including that Brew First itself was exempt from registration–and, therefore, he was on notice of registration claims more than two years before he filed them.  Accordingly, the Court dismissed with prejudice defendant's registration claims.
In addition, as to defendant's claim for securities fraud, Brew First argued that defendant lacked standing to sue Brew First for securities fraud because: (1) a separate entity made the investment in Brew First and privity is required between the investor and the issuer, and (2) the separate entity could not assign its claim to defendant. Defendant argued the entity that invested in Brew First lawfully assigned its claims to defendant pursuant to an exception in the Brew First investment documents.  The Court held that defendant did not properly plead the privity required pursuant to an exception to the prohibition on assignments.  Thus, the Court dismissed defendant's securities fraud claim without prejudice.
As to defendant's claims for direct and vicarious liability for common law fraud, Brew First argued that the claims should be dismissed because defendant failed to allege the false statements with particularity, such as who made the statements, what the statements were, precisely when the statements were made, and where/how they were made. The Court agreed that defendant's fraud claims were not adequately alleged, dismissing these claims without prejudice.
When defendant did not timely file an amended third-party complaint against Brew First, the Court's dismissal of the securities fraud and common law fraud claims ripened to a dismissal with prejudice. Therefore, all claims against Brew First were successfully terminated.
After final judgment is entered on all of the claims in the case, Brew First intends to move for prevailing party attorney's fees and costs against defendant.
---
Florida Appellate Court Grants Dismissal of Appeal in Favor of Firm Client
Rabin Kammerer Johnson announces the favorable conclusion of a recent appeal in the Florida Fourth District Court of Appeal ("Fourth DCA"), Standing Up for Florida, Inc. v. Wendy Sartory Link, in Her Official Capacity as the Supervisor of Elections of Palm Beach Cty., Fla., Case No. 4D22-0211.
The case was originally filed in the Circuit Court for the Fifteenth Judicial Circuit, in Palm Beach County, against the firm's client, the Supervisor of Elections of Palm Beach County ("SOE"). The complaint requested the court to declare invalid, and to enjoin SOE from verifying, certain petition forms that were submitted to SOE in support of an initiative to amend the Florida Constitution. Proposed amendments to the Florida Constitution are permitted pursuant to a citizen's initiative process, which involves gathering a requisite number of signed petitions to place such initiative on the ballot for the next election.
Standing Up for Florida, Inc. ("SUF")—a political action committee—alleged that FVC-PAC—another political action committee—was hiring professional petition gatherers who violated Florida's election laws and submitted illegally-obtained petitions to SOE. The alleged claims arose from SOE's duty under section 100.371, Florida Statutes, to verify whether signatures on submitted petition forms are valid in order to place an initiative on the ballot. SUF sought a declaratory judgment that certain petitions were illegally obtained and to enjoin SOE from verifying such petition forms.
After a hearing, the lower court dismissed SUF's complaint with prejudice, holding that SUF lacked standing to bring the case because section 100.371, Florida Statutes, did not provide a private cause of action to enforce the provisions SUF sought to enforce. SUF appealed the lower court's order to the Fourth DCA.
On appeal, SOE argued that the appeal should be dismissed as moot because the proposed initiative petition did not obtain the constitutionally-required number of verified signatures to be placed on the ballot for the November 2022 General Election. As SOE argued, a case becomes moot when it no longer presents an actual controversy or when the issues have ceased to exist. In this case, the record evidence was devoid of a reasonable expectation that FVC-PAC would pursue the same ballot initiative in another election.
The Fourth DCA agreed and dismissed the appeal as moot.
RKJ partner, Lauren Johnson, represented the SOE in the lower court and on appeal.
---
Lauren Johnson Appointed to Serve on UF Law Alumni Council
Partner Lauren Johnson has been selected to serve a 5-year term on the University of Florida Levin College of Law's Law Alumni Council ("LAC"). The new LAC members were chosen from a group of distinguished UF Law alumni to serve and help continue the leadership traditions of the University of Florida.
The LAC exists to support the Levin College of Law by helping recruit top-tier law students, mentoring existing law students, encouraging the hiring of UF graduates, promoting alumni networking, and assisting with fundraising for the law school. Congratulations, Lauren!
---
Lauren Johnson to Receive PBCFAWL's Judge Meenu Sasser Outstanding Young Lawyer Award
Rabin Kammerer Johnson congratulates partner Lauren Johnson on receiving the Judge Meenu Sasser Outstanding Young Lawyer Award from FAWL's Palm Beach County Chapter.
The award is given each year to a young lawyer who has shown exceptional effort and commitment to FAWL's mission of promoting gender equality and the advancement of women through the practice of law, public service, community involvement, and professional activities.
Lauren said she is humbled and honored to receive such a prestigious award, especially with its new title honoring the late Judge Meenu Sasser. She recalls Judge Sasser's influence on her fondly, even in the short amount of time she was able to practice in front of her and serve alongside her for bar events. Lauren hopes to follow in Judge Sasser's footsteps to promote and uplift women and people of diverse backgrounds in the legal profession and the community.
The award will be presented at FAWL's Justice Pariente Judicial Reception, along with FAWL's other annual awards, on March 3 at the National Croquet Center.
Congratulations again, Lauren! We are so proud of your achievements.
---
Lauren Johnson to be Sworn in as a Director of the Palm Beach County Bar Association
Rabin Kammerer Johnson congratulates partner Lauren Johnson on her upcoming installation as a member of the Board of Directors of the Palm Beach County Bar Association (PBCBA).
As Lauren finishes her presidency of the PBCBA Young Lawyer's Section this summer, she will be sworn in as a Director of the Board of PBCBA. She is looking forward to continuing her service to PBCBA because it's important to her to ensure that the voices of all its diverse members are heard.
Lauren says she finds her bar association involvement rewarding, especially when it helps affect positive changes for local attorneys, organizes impactful events to bring them closer together, and assists in improving their knowledge and professionalism.
The Installation Banquet, which will mark the PBCBA's 100th year anniversary, will take place on June 11, including installation of the bar association's new President, Scott Smith.
We look forward to watching Lauren's accomplishments!
---
Announcing that McCabe Rabin has been Renamed "Rabin Kammerer Johnson" After Former Name Partner Ryon McCabe is Selected as a U.S. Magistrate Judge
The firm congratulates its former name partner, Ryon McCabe, on his recent selection to become a U.S. Magistrate Judge for the Southern District of Florida. McCabe will succeed the late U.S. Magistrate Judge, Dave Lee Brannon, and preside over cases in the West Palm Beach division.
McCabe is the second attorney appointed to the bench from the firm since 2015. The first was 15th Judicial Circuit Judge Dina Keever.
With McCabe's rise to the bench, attorney Christopher Kammerer, formerly with the law firm Kammerer Mariani, has joined the firm as a name partner. Kammerer concentrates his practice on complex business litigation matters.
Firm partner Lauren Johnson also has been elevated to name partner. Johnson will continue to concentrate on business litigation, whistleblower qui tam cases, and securities litigation and arbitration.
The firm remains at four attorneys, with associate Havan Clark having joined the firm in September after finishing her clerkship with U.S. District Judge Donald Middlebrooks.
Chris, Lauren, and Havan join firm co-founder and managing partner, Adam Rabin, in providing excellent representation to their clients and doing so with professionalism and civility. Under its new name, Rabin Kammerer Johnson, the firm will continue to specialize in complex business litigation, FINRA securities arbitration, and whistleblower qui tam litigation.
---
Rabin Kammerer Johnson Announces the First Whistleblower Qui Tam Settlement in Florida for Violations of the Paycheck Protection Program
Rabin Kammerer Johnson announces the settlement of United States ex. rel. Hablitzel v. All in Jets, LLC and Seth A. Bernstein, No. 20-cv-61420-Altonaga in the U.S. District Court for the Southern District of Florida. Adam Rabin and Lauren Johnson, together with co-counsel Harris Nizel at Nizel Law, represented the whistleblower.
The case is the first False Claims Act (FCA) case alleging violations of the Paycheck Protection Program (PPP) rules to settle in Florida and the fourth in the United States.
On March 27, 2020, Congress created the PPP as part of the Coronavirus Aid, Relief and Economic Security Act (CARES Act). The PPP enabled qualifying small businesses (less than 500 employees) to obtain forgivable loans, backed by the Small Business Administration (SBA), for the limited purpose of covering payroll costs, rent, mortgage interest, and utilities for a specified period.
On April 27, 2020, a jet chartering company based in South Florida, All in Jets, LLC d/b/a JetReady, received a PPP loan totaling $1,173,382. Upon receipt, the company's owner, Seth A. Bernstein ("Bernstein"), immediately diverted $98,929 to pay for personal expenses, including a donation to help build a drive-in movie theater for summer residents in Nantucket, Massachusetts, a transfer of funds to a construction company to build a sports/recreation court at Bernstein's home, and payments made to a third-party medical practice.
On July 6, 2020, the firm's whistleblower client, a former accountant for the company, filed a sealed action under the False Claims Act against the company and Bernstein, asserting that certain PPP loan proceeds were not used for authorized purposes. On August 9, 2020, the company filed bankruptcy.
After a year-long investigation by the Department of Justice and U.S. Attorney's Office for the Southern District of Florida, the case ultimately settled with Bernstein individually for a total of $366,440.756, including recovery of the whistleblower's attorney's fees. Under the terms of the settlement, the Government will receive $287,055, a recovery that approximates treble damages, a remedy available under the FCA. The Government will pay $57,411 as the "relator share" to the whistleblower.
Rabin Kammerer Johnson thanks Assistant United States Attorney James Weinkle, DOJ Trial Attorney Jonathan Gold, and SBA attorney Arlene Embrey, for conducting an efficient and thorough investigation that led to a successful resolution of the case, notwithstanding that the company had filed bankruptcy.
Each year, taxpayers lose billions of dollars due to fraud perpetrated on government programs such as the PPP. Under the qui tam provisions of the FCA, whistleblowers are entitled to share in the recovery of funds that government programs have paid out to participants based upon the submission of false claims.
---
Rabin Kammerer Johnson Congratulates Lauren Johnson on Becoming a Partner with the Firm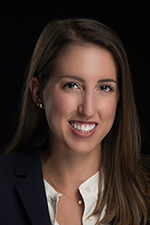 Rabin Kammerer Johnson congratulates attorney Lauren Johnson on becoming a partner with the firm. Lauren has been with the firm since 2017 and practices in the areas of complex business litigation and whistleblower qui tam litigation.
Lauren joined the firm after serving as a law clerk for both U.S. Magistrate Judge William Matthewman and Florida Supreme Court Justice Jorge Labarga.
In recent years, Lauren has risen the ranks of the Palm Beach County Bar Association (PBCBA), currently serving as President of its Young Lawyers Section and as a member of PBCBA's Board of Directors. As President of the Young Lawyers Section, Lauren has been focusing on the diversity of the section, improving professionalism and civility among young lawyers, and finding ways to increase mentorship and professional opportunities for the section's members.
When asked about Lauren's new position with and contribution to Rabin Kammerer Johnson, firm partner Adam Rabin stated, "Lauren brings a unique energy and enthusiasm to our firm that perfectly complements her high standards of practice and passion to represent her clients. She represents everything good about lawyering, including setting an example at our firm and within the community."
---
Rabin Kammerer Johnson Welcomes Havan Clark to the Firm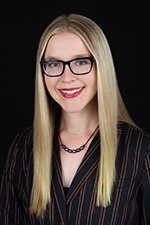 Rabin Kammerer Johnson welcomes Havan Clark to the firm as a new associate. Havan will be practicing in all of the firm's practice areas, including complex business litigation, securities litigation and arbitration, and whistleblower qui tam litigation.
Havan joins the firm after serving as a law clerk to U.S. District Judge Donald M. Middlebrooks in the Southern District of Florida.
Havan graduated with honors from the University of North Carolina School of Law, where she was an Articles Editor for the North Carolina Law Review. In law school, Havan received Certificates of Merit for the highest grades in Research, Reasoning, Writing, and Advocacy I and II. She also worked as a legal intern at the Southern Poverty Law Center and the American Immigration Council, supporting attorneys in administrative and court proceedings that sought to protect the rights of immigrants.
Before attending law school, Havan completed her undergraduate studies at Emory University.
The firm is excited for Havan to join our team. If you would like to reach out to Havan, please email her at hclark@mccaberabin.com.
Results
Recognition