Rabin Kammerer Johnson's Lauren Johnson Wins Dismissal with Prejudice for Client in Federal Court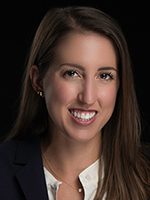 Rabin Kammerer Johnson is proud to announce that attorney Lauren Johnson recently prevailed on behalf of a client in federal court, obtaining a dismissal with prejudice.
Ms. Johnson represented Stephanie Pizzola in an interpleader action in the Southern District of Florida. In a probate proceeding, Pizzola's mother had entered into a settlement agreement with her late husband's estate whereby the estate agreed to pay Pizzola's mother a specific sum of money by a date certain in exchange for her mother waiving certain rights in the probate proceeding. When the estate failed to make the payment, however, Pizzola (as assignee of the settlement agreement) moved the probate court to compel compliance with the settlement agreement. The probate court found that the estate had sufficient assets to make the payment and ordered the estate to make the payment to Pizzola.
The estate then filed an interpleader action in federal court against Pizzola and the USA, asking the court for a judicial determination regarding Pizzola's rights under the settlement agreement and whether she had priority over the estate taxes that were due to the Federal government. The estate argued that the probate court had ignored Federal and Florida law regarding priority, and that Pizzola should not be paid until the Federal government was paid in full. In essence, the estate was seeking to overrule the probate court's order and avoid its obligations under the settlement agreement.
Ms. Johnson filed a motion to dismiss on behalf of Pizzola, arguing that the probate exception to the federal court's jurisdiction applied in the case because administration of the estate should be reserved for the probate court. After oral argument, the Court agreed. The Court found that: "Issuing the priority determination while the state court has not finalized the probate of the Estate would improperly interfere with the state court's administration of it." Additionally, the Court noted that "federal courts are wary of exercising jurisdiction where 'it is essentially an attempt to relitigate the merits of such suits, which have been brought in the Probate Proceeding.'" Therefore, the federal court dismissed the interpleader action with prejudice.
The firm thanks Stephanie Pizzola for trusting it to handle this case and is proud that it was able to obtain the best result for our client.