Should a whistleblower sign a severance agreement?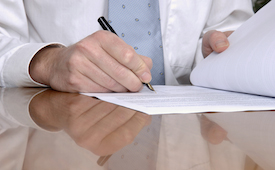 Many qui tam whistleblowers are asked to sign a severance agreement before they depart from their employment. A severance agreement is a contract between the employee and the employer. In most cases, each side agrees to give something to the other side. Many times, the employer offers to give a lump sum payment, called a severance payment, to the employee. In exchange, the employee must sign a release.
A release is a legal document whereby the employee surrenders his or her legal rights to sue the employer. Most employers draft the release in very broad terms, such that the employee gives up his or her rights to sue the employer for any reason whatsoever, whether known or unknown, arising from any act from the beginning of the world until the present date.
If an employee thinks he or she may have a potential qui tam whistleblower claim arising from fraud committed by the employer against the government, the whistleblower should be very careful about signing a release. Most courts have found that these types of releases violate public policy because their aim is to prevent employees from reporting fraud to the government. However, a small number of courts have found that a release can be enforced, in certain circumstances, to prevent a whistleblower from receiving his or her reward for reporting the fraud. In other words, while the release cannot bar the government from pursuing a claim based upon the whistleblower's information, the release may prevent the whistleblower from receiving any money for reporting that information.
This is a common defense tactic used by companies who are committing fraud against the government. If the company suspects it has a whistleblower in its midst, the company may offer a severance package that includes an overly broad release. The severance payment can be a cheap way to nip a qui tam case in the bud.
If you are potential qui tam whistleblower and you are being asked to sign a severance agreement or a release, you may wish to consult a lawyer who is skilled and knowledgeable in qui tam cases. Signing a release may have an impact on your future legal rights.
Please Note: Rabin Kammerer Johnson provides these FAQs for informational purposes only, and you should not interpret this information as legal advice. If you know about government fraud and want advice as to how the law might apply to the specific facts and circumstances of your case, please click here to contact one of our attorneys.