What is a Sham Medical Director Agreement?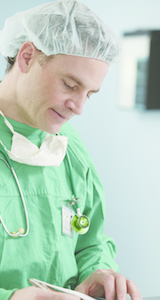 Many healthcare facilities, such as home health agencies, nursing homes and skilled nursing facilities are required by law to have a "Medical Director." A Medical Director is usually a licensed physician with oversight responsibility for the healthcare facility. A Medical Director need not be a full-time employee. More often than not, the Medical Director is typically a physician with his or her own private practice who agrees, on a part-time basis, to serve as Medical Director in exchange for a fee.
For most healthcare facilities, the lifeblood of revenue consists of referrals from physicians. This creates a powerful incentive for healthcare facilities to offer kickbacks to physicians in exchange for referrals. For this reason, the federal healthcare laws, including the Stark Law and the Anti-Kickback Statute, have set up a variety of prohibitions to make sure that physicians make referrals based on the best interests of the patient, rather than the best interests of their own pocketbooks.
Unfortunately, many unscrupulous healthcare facilities seek to circumvent the Stark Law and the Anti-Kickback Statute by hiding kickbacks in the form of sham Medical Director agreements. The scheme typically works as follows:
Healthcare facility hires physician to become a "Medical Director."
In return, physician refers patients to healthcare facility.
Healthcare facility then pays Medical Director fees to the physician, even though the physician performs few, if any, of the actual duties of the Medical Director.
From the standpoint of the healthcare facility, paying bogus Medical Director fees, i.e., bribes, can be very profitable. The healthcare facility stands to make far more money by billing Medicare for the new patients than it pays to the physician in sham Medical Director fees. Not all Medical Director agreements are kickbacks, of course. The Government has enacted a variety of regulations to determine whether a Medical Director agreement qualifies as a valid employment relationship. In general, to be valid, an agreement must meet the following requirements:
The agreement must cover specific and identifiable services;
The amount of compensation paid to the physician must be consistent with fair market value;
The compensation must not be determined in a manner that takes into account the volume or value of Medicare referrals generated by the physician; and
The compensation must be commercially reasonable even if no Medicare referrals were made to the healthcare facility.
If a healthcare facility enters into a bogus or sham Medical Director agreement as a means to pay kickbacks to a physician, then all claims submitted to the government related to those referrals are "false claims" within the meaning of the False Claims Act. Whistleblowers who report sham Medical Director agreements could be entitled to a reward based on a percentage of damages recovered by the Government.