Jennifer P. Rabin
Chief Administrative Officer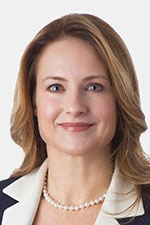 Centurion Tower, 1601 Forum Place, Suite 201
West Palm Beach, Florida 33401
Phone: 561-659-7878
jrabin@rkjlawgroup.com
Jennifer Rabin is the Chief Administrative Officer (CAO) for the firm, having joined the firm in November 2021.
She is responsible for administering the internal operations of the firm, including financial, human resources, client-management, and cyber security.
Before joining the firm, Jennifer practiced law as an intellectual property attorney for twenty-seven years with several large firms, specializing in trademark prosecution and licensing.
Jennifer was of counsel at Akerman in its West Palm Beach from 2001 until 2019. Before joining Akerman, she practiced at two large firms in Denver, Colorado. Jennifer began her career as a corporate and intellectual-property transactions lawyer at Steel Hector & Davis in Miami.
Before launching her legal career, Jennifer graduated from the University of Miami School of Law cum laude and was an Articles & Comments Editor on the University of Miami Law Review. She also obtained her undergraduate degree from the University of Miami, where she graduated summa cum laude with a double major in English and Film Production.