Adam T. Rabin
Partner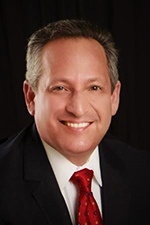 Centurion Tower, 1601 Forum Place, Suite 201
West Palm Beach, Florida 33401
Phone: 561-659-7878
arabin@rkjlawgroup.com
Download vCard
Areas of Practice
Business Litigation
Securities Arbitration & Litigation
Whistleblower and Qui Tam Actions
Adam T. Rabin is Florida Bar Board Certified in Business Litigation and has been handling complex business litigation cases for thirty years. Mr. Rabin concentrates his practice on representing businesses and individuals in complex business disputes, plaintiffs in whistleblower/qui tam actions, and investors in securities arbitrations against broker-dealers. He handles litigation cases on both an hourly-rate and contingency-fee basis.
Mr. Rabin has been recognized as one of the Top 100 Super Lawyers in the State of Florida and in South Florida. Mr. Rabin also has been listed eighteen straight years as a "Top Lawyer" by the South Florida Legal Guide and was recently named to Florida's "Legal Elite" Hall of Fame by Florida Trend Magazine.
Mr. Rabin has presented at seminars and authored articles on various business-litigation topics and whistleblower/qui tam topics. He has handled hundreds of complex business matters ranging in all levels of complexity and has been representing whistleblowers in qui tam cases since 2010 that involve businesses and individuals who have perpetrated fraud against the government. Mr. Rabin regularly handles cases in both federal and state court and before arbitration panels appointed by the Financial Industry Regulatory Authority (FINRA) and the American Arbitration Association (AAA).
Mr. Rabin has served on The Florida Bar Board of Governors and as President of the Palm Beach County Bar Association. In addition to serving on the Palm Beach County Bar's Board of Directors for 7 years, Mr. Rabin is the former chair of its Judicial Relations Committee, a joint committee of attorneys and judges.
Mr. Rabin also is the former chair and co-chair of the Bench & Bar Conference for the U.S. District Court for the Southern District of Florida, having been twice appointed by former Chief Judge Federico Moreno. As chair and co-chair, Mr. Rabin led a committee of federal judges and appointed attorneys in organizing a district-wide conference focused on improving advocacy and professionalism within the district.
During his years on the board of the Palm Beach County Bar Association, Mr. Rabin was a champion for improving diversity and inclusion within the Palm Beach County legal community. He co-chaired the Association's Standing Committee for Diversity and Inclusion and its inaugural Diversity Summit. Mr. Rabin also has served on the Board of Directors for the Kozyak Minority Mentoring Foundation for over a decade.
Mr. Rabin further has been an advocate for improving lawyer civility in South Florida. During and after his term as President of the Palm Beach County Bar Association, Mr. Rabin co-chaired the South Florida Joint Civility Project in which 44 voluntary bar associations throughout South Florida joined together to promote improved lawyer civility. The program received The Florida Bar's Group Professionalism Award. South Florida's Attorney at Law magazine featured this program and Mr. Rabin's law practice that combines smart and aggressive representation of clients and doing so with a high level of professionalism.
Education
J.D., University of Miami School of Law, Coral Gables, Florida, 1993

Honors: Cum Laude
Honors: Projects Editor, University of Miami Law Review
Honors: State Mock Trial Team
Honors: First Year Moot Court Competition Champion

B.A., Tulane University, New Orleans, Louisiana, 1990

Honors: Glendy Burke Award for Top Graduate in Communication Major, College of Arts & Sciences
Honors: Phi Eta Sigma Honor Society (President)
Honors: National Award for the Outstanding Vice-President of Sigma Alpha Mu Fraternity
Class Vice-President, College of Arts & Sciences
Bar Admissions
Florida
U.S. District Court, Southern District of Florida
U.S. District Court, Middle District of Florida
U.S. Eleventh Circuit Court of Appeals
U.S. Federal Circuit Court of Appeals
Professional Associations and Memberships
Palm Beach County Bar Association

President, 2012-2013
Board Member, 2007-2014
Committee for Diversity & Inclusion, Co-Chair 2009-2011; Member 2012-2014
Judicial Relations Committee, Chair 2007-2009; Member 2010-2016
Bench Bar Conference, Chair 2006-2007
Diversity Summit, Co-Chair 2009
Professionalism Committee, Member 2012-2021
Business Litigation CLE Committee, Chair 2004-2005

South Florida Joint Civility Project ("Got Civility?"), a Joint Project of 44 South Florida Voluntary Bar Associations

Chair 2012-2013; Co-Chair 2013-2015; Group Recipient of The Florida Bar's Professionalism Award in 2013

The Florida Bar

Board of Governors, Member, 2016-2018

Board Certification Plan Appeals Committee, Vice-Chair 2017-2018
Technology Committee, Member 2017-2018
Rules Committee, Member 2017-2018

Standing Committee on Professionalism, Member 2014-2016
Business Litigation Committee, Member 2004-2009, 2014-2016

Palm Beach County Justice Association
Palm Beach County Hispanic Bar Association
F. Malcolm Cunningham, Sr. Bar Association
Florida Association for Women Lawyers

Palm Beach County Chapter, 2009-2023; Co-Chair, Programming Committee 2014-2016; Co-Chair, Board Certification Boot Camp, 2015-16

Other Activities

Board Member, Village of Wellington Planning Zoning & Adjustment Board, 2020-2023, serving second two-year term
Steering Committee for the U.S. District Court for the Southern District of Florida Bench and Bar Conference, Chair 2011-2012, Co-Chair 2009-2010, Member 2013-2014, 2016-2017
Ad Hoc Committee for Attorney Admissions, Peer Review and Attorney Grievances for United States District Court, Southern District of Florida, Member 2011-2012
Board of Directors for the Kozyak Minority Mentoring Foundation, Member 2013-2023
Raise the Bar Project, Women's Foundation of Palm Beach County, Co-Chair 2010-2016, 2022
Professional Honors & Awards
Palm Beach County Bar Association Sidney A. Stubbs Professionalism Award, 2015
Cuban American Bar Association Amigo Award for Promoting Lawyer Civility, 2016
Project Nuremberg Civility Award, 2016
Florida Bar Board Certified in Business Litigation, 2011-2023
Top 100 Super Lawyers in Florida, 2017
Top 100 Super Lawyers in South Florida, 2016-2017
Top Lawyers, South Florida Legal Guide, 2007-2023
Florida Legal Elite, 2005-2023; admitted to Legal Elite Hall of Fame, 2023
Articles and Speaking Engagements
Articles

Rights and Duties for Managers and Members in LLC Member Disputes
What are the Top 10 Most Significant Changes to Florida's Summary Judgment Rule?
Beware of Federal Liability for Email and Social Media Hacking During Divorce
Top 5 Tips for Taking a Corporate Representative Deposition
Top 5 Tips for Defending a Corporate Representative Deposition
Ten Tips on How to Be More Effective Local Counsel
Top 10 Tips for Working With a Commercial Damages Expert
What is Required for a Whistle Blower to Bring a Federal Qui Tam Action?
How Can We Improve the Retention and Advancement of Women Lawyers Through Flexible Scheduling?
Promoting Lawyer Civility Throughout South Florida

Speaking Engagements

Whistleblower & Qui Tam Actions, Palm Beach County Bar Association Seminar, Panel Moderator
Members' Rights and Remedies in LLC Member Disputes, PBCBA Seminar, Speaker
Rights and Remedies in Corporate Divorce, PBCBA Seminar, Speaker
Professionalism Tips to University of Miami School of Law Litigation Skills Program, Speaker
Recovering Attorney's Fees in Civil and Family Cases, PBCBA Seminar, Speaker
Practice Tips, PBCBA Bench Bar Conference – YLS Session, Panelist
Federal Practice, PBCBA Bench Bar Conference, Panel Moderator
Electronic Discovery, S.D. Fla. Bench & Bar Conference Panel Moderator
A Primer on Copyright Litigation, PBCBA Seminar, Speaker
Working with an Accounting Expert from the Plaintiff's Perspective, Dade County Bar Association and Cuban American Bar Association Seminar, Speaker
Expert Witnesses, PBCBA Seminar, Panelist
Alternative Dispute Resolution – Arbitration, PBCBA Seminar, Panelist