A Day Off to Vote (#DOV) – Florida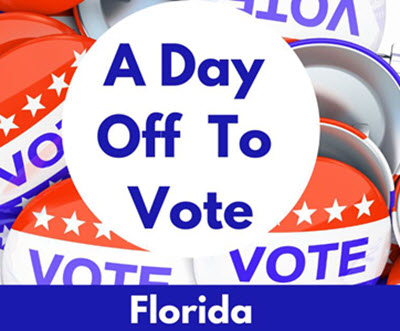 How can your firm or business ensure that its employees will have the time and opportunity to cast their ballots in Election 2020?
Join the 60 firms* participating in our nonpartisan project and give your employees "A Day Off to Vote."
It can be Election Day or an early voting day. Any amount of time off given to your employees qualifies your firm to participate.
If your firm or business is interested in participating in this nonpartisan, nonprofit project, please email arabin@mccaberabin.com. You also may join the other 175 members of the "A Day Off to Vote" Facebook group, even if your firm or business is not yet participating.
https://www.facebook.com/groups/360904281706593
Join the cause and help us get out the vote! #DOV
______________________________
*The 60 firms and businesses participating so far include:
Searcy Denney Scarola Barnhart & Shipley
Lesser, Lesser, Landy & Smith
LaBovick Law Group
McGovern Gerardi Law
Law Offices of Mark R Osherow
Chaykin Law Group
Law Offices of R Wayne Richter
George Gesten McDonald
Young & Brooks
Gelfand & Arpe
Atherton Galardi Mullen & Reeder
Law Offices of Craig Goldenfarb
Domnick Cunningham & Whalen
Law Office of Salesia Smith-Gordon
Perkins Pershes
Shullman Fulgate
Liggio Law
Gonzalez & Cartwright
Scott Wagner
Pincus & Currier
Greenspoon Marder
Wender Law
Employment Law Offices of Jupiter
Personal Injury of Florida
The Law Office of Cyrus K. Toufanian
Eisenberg & Fouts
The Law Offices of Abigail Beebe
Law Office of Farkas & Crowley
The Law Offices of Tami L. Augen
Marshall Grant
Law Offices of Robin Bresky
Romano Law Group
Cohen Milstein
Sheappeals
Dyson & Levy
NAI Merin Hunter Codman
Pressly, Pressly, Randolph & Pressly
Stark Weber
David Glatthorn Law
Russack Law
Zappolo Farwell
Stoloff & Manoff
The Santillo Law Firm
DiFalco Fernandez Kaplan
MileMark Media
Kozyak Tropin & Throckmorton
AXS Law Group
Mettler Randolph Massey Carroll & Sterlacci
Lapin & Leichtling
Kim Vaughan Lerner
Law Offices of Hope Marler Cross
Tama Beth Kudman Law
Funxion Rehabilitation
Strecker Legal
Pike & Lustig
Rabin Kammerer Johnson