Honoring a Legend: Judge Edward Rodgers (1927 – 2018)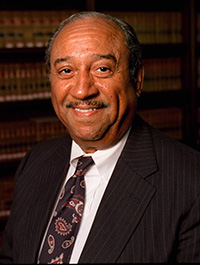 On October 20, 2018, Palm Beach County lost a legal, judicial, and civil rights legend: Judge Edward Rodgers. Judge Rodgers, who passed away at 91, was an icon in Palm Beach County's African American community and a role model for all minority and majority groups.
Judge Rodgers was born in Pittsburgh, Pennsylvania and moved to West Palm Beach in 1950 after he married Gwendolyn Baker, a Palm Beach County native.
He served in the Navy Hospital Corps during World War II. He later graduated from Howard University and became a teacher at the segregated Roosevelt High School, before receiving a promotion to Assistant Principal. At the school, he protested the unequal pay of African America teachers.
The unequal pay at Roosevelt caused Judge Rodgers to apply to law school. The University of Miami School of Law originally accepted him until the school rescinded its offer after learning he was black. Judge Rodgers ultimately attended Florida A&M, law school, graduating in 1963 with five other graduates.
After graduating from law school, Judge Rodgers practiced with F. Malcolm Cunningham, Sr. and T.J. Cunningham, Sr., before starting his own law practice. Judge Rodgers was the fifth black lawyer to practice in Palm Beach County.
In Palm Beach County, Judge Rodgers ultimately became the first African American assistant state attorney, first African American judge, first African American circuit court judge, and first African American chief judge.
In 1991, Judge Rodgers organized the first drug court in the City of Riviera Beach. The City of Delray Beach and City of West Palm Beach copied the model and started their drug courts. The U.S. Supreme Court presented Judge Rogers with its prestigious Jefferson Award for Judge Rodgers's drug court model.
While in private practice, Judge Rodgers led efforts to desegregate the West Palm Beach Police Department, the Children's Home Society, and Good Samaritan Hospital.
After retiring from the bench in 1995, Judge Rodgers was elected to the Riviera Beach City Council and later became mayor. In 2004, the post office in Riviera Beach was named after Judge Rodgers.
Rabin Kammerer Johnson was grateful for its friendship with Judge Rodgers and, in 2013, was particularly appreciative when he read the 13th Amendment and the Emancipation Proclamation (on its 150th anniversary) at the firm's Constitution Day event.
Firm partner Adam Rabin and John Howe, former co-chairs of the Palm Beach County Bar Association's (PBCBA) Committee for Diversity and Inclusion (CDI), among others, were instrumental in jointly moving for PBCBA to a create an annual diversity award in the namesake of Judge Rodgers.
On February 22, 2019, PBCBA will present its 8th annual Judge Edward Rodgers Diversity Award at its Bench Bar Conference and will recognize the legacy that Judge Rodgers has left with our community.