Rabin Kammerer Johnson Congratulates Lauren Johnson on Becoming a Partner with the Firm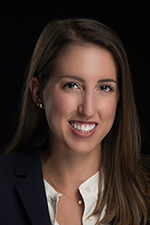 Rabin Kammerer Johnson congratulates attorney Lauren Johnson on becoming a partner with the firm. Lauren has been with the firm since 2017 and practices in the areas of complex business litigation and whistleblower qui tam litigation.
Lauren joined the firm after serving as a law clerk for both U.S. Magistrate Judge William Matthewman and Florida Supreme Court Justice Jorge Labarga.
In recent years, Lauren has risen the ranks of the Palm Beach County Bar Association (PBCBA), currently serving as President of its Young Lawyers Section and as a member of PBCBA's Board of Directors. As President of the Young Lawyers Section, Lauren has been focusing on the diversity of the section, improving professionalism and civility among young lawyers, and finding ways to increase mentorship and professional opportunities for the section's members.
When asked about Lauren's new position with and contribution to Rabin Kammerer Johnson, firm partner Adam Rabin stated, "Lauren brings a unique energy and enthusiasm to our firm that perfectly complements her high standards of practice and passion to represent her clients. She represents everything good about lawyering, including setting an example at our firm and within the community."