How to Dissolve a Corporation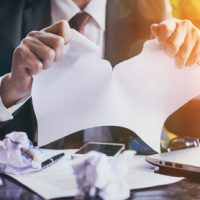 Unless a limited duration is expressly noted in the articles of incorporation, a corporation exists in perpetuity. Therefore, in order to dissolve a corporation, formation action must be taken by the corporation itself, or by others, in order to terminate its existence.
Corporations can be dissolved in one of two ways: voluntary or involuntary.
Voluntary Dissolution
Dissolving a corporation voluntarily is very similar to how other major corporate changes are handled, however it can be tricky so it's crucial to contact an experienced West Palm Beach business litigation attorney. The board of directors decides on a resolution, which then has to be approved by the corporation shareholders. An alternative to shareholder vote is dissolution without board action by unanimous written consent from every shareholder.
After an agreement is reached and the articles of dissolution are filed and approved, it's time to liquidate assets, pay off all creditors remaining, and distribute any remaining proceeds, if any exist, to shareholders. Shareholders are paid according to their respective ownership percentages and preferences.
It's important to note that the corporation will still exist for a stated period of time after the dissolution to wrap up any remaining corporate business. This means the corporation can continue to file legal actions, but it can also be sued on pre-dissolution claims.
Involuntary Dissolution
At the state level, corporation statutes allow for involuntary dissolution by means of judicial proceedings and decree. In Florida, the governing statute is Florida Statute 607.1430. This sets forth the grounds on which a corporation can be involuntarily dissolved.
A corporation can be dissolved in a proceeding by the Department of Legal Affairs if it's established that:
The corporation obtained its articles of incorporation through fraud; or
The corporation has continued to exceed or abuse the authority conferred upon it by law.
A corporation can be dissolved in a proceeding by a shareholder if it's established that that:
The directors are deadlocked in the management of the corporate affairs, the shareholders are unable to break the deadlock, and irreparable injury to the corporation is threatened or being suffered; or
The shareholders are deadlocked in voting power and have failed to elect successors to directors whose terms have expired or would have expired upon qualification of their successors.
Dissolution of a corporation can also take place in a proceeding by a shareholder or group of shareholders having less than 35 or fewer total shareholders if it's established that:
Corporate assets are being misapplied or wasted, causing material injury to the corporation; or
The directors or those in control have acted, are acting, or are reasonably expected to act in a manner that is illegal or fraudulent.
Another option for involuntary dissolution is through a proceeding by a creditor if it's established that:
The creditor's claim has been reduced to judgment, the execution on the judgment returned unsatisfied, and the corporation is insolvent; or
The corporation has admitted in writing that the creditor's claim is wrong and owing and the corporation is insolvent.
The last option under the statute is a proceeding by the corporation to have its voluntary dissolution continued under court supervision.
Contact an Attorney for Help Today
If you're facing a corporate dissolution, no matter whether it's voluntary or involuntary, let an experienced Florida business law attorney help you navigate this challenging process. Contact Rabin Kammerer Johnson at 561-659-7878 or 877-915-4040 for a consultation today.
Resource:
leg.state.fl.us/statutes/index.cfm?App_mode=Display_Statute&Search_String=&URL=0600-0699/0607/Sections/0607.1430.html