Instituting a Deadlock-Breaking Mechanism in Your LLC Operating Agreement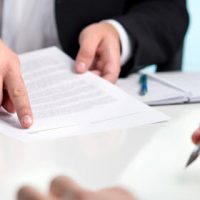 Disagreements between LLC members, at some tpoint,  are inevitable. When members fail to reach an agreement on certain material matters, or set a dispute resolution procedure to break a tie vote, it is typically referred to a "deadlock." Deadlocks can break down business processes, cause efficiency problems and loss of revenue, present distractions and personality conflicts, and even result in litigation in some instances. This is why it's important to include deadlock-breaking mechanisms within your LLC operating agreement.
Scenarios Where Deadlocks Occur
The most common scenarios that involve deadlocks are:
Situations that require a majority vote to go forth with an intended action;
Failure to get required approval from the member who has been granted the right to make approvals;
Failure to successfully get unanimous consent in situations where unanimous consent is required;
Failure of an equal number of managers or members to reach an agreement.
Mechanisms for Breaking a Deadlock
By incorporating provisions in your LLC operating agreement that discuss what happens in the event of a deadlock, you can avoid costly litigation and a potential dissolution of the LLC itself. Having a competent Florida LLC and business litigation attorney draft your initial operating agreement, or interpret your existing one, is crucial to ensure you don't reach a point where a deadlock situation, or ultimately litigation, financially ruins or destroys the the LLC.
Some of the more commonly utilized deadlock-breaking mechanisms include:
Internal or External "Tie-Breakers": Parties who are deadlocked will refer the matter to a tie-breaker. The tie-breaker can be internal or external industry experts, mediators, arbitrators, or professional advisors.
Buy-Sell Provisions: A provision where a deadlock is broken by one of the disagreeing members selling their interest in the LLC. Typically, there are two methods, one of which involves an appraisal to determine the value of the interest to be sold, or the "shotgun" approach where a member can offer to purchase the interest at a set price.
"Casting" or Rotating/Alternating Vote Mechanisms: When there is a deadlock, members can rotate tie-breaking or casting votes. This means one member will utilize their right to the casting vote for issue A, and when the next deadlock comes around, the next member gets the casting vote, and so on.
Put or Call Options: A "call" is the right to purchase a member's interest at a certain price, whereas a "put" is the right to sell one's interest due to an event. These require the identification of what a triggering event might be.
Partition or Sale of Assets or the Company: This involves a partition of some assets or business, or the sale of the assets or the company.
Retaining a Florida Business Litigation Attorney
The failure to include deadlock-breaking mechanisms in your LLC operating agreement can be catastrophic for your business. Even if a deadlock situation doesn't result in expensive litigation, or dissolution of the company, it has the potential to undermine the operation and profitability of the business as a whole.  When there is a voting deadlock, relations between members can be further strained, there can be  increased expenses and loss of revenue, and the company may suffer a loss of reputation  as clients or customers get wind of the problems.
If you have a member dispute with a Florida LLC, and you need assistance to resolve that dispute or file a lawsuit,  contact the office of Rabin Kammerer Johnson today for a confidential consultation. Let us help with your LLC member dispute and business litigation needs.
Resource:
americanbar.org/publications/blt/2017/03/03_conti.html