Potentially Fraudulent Activity Tied to Initial Coin Offerings (ICOs)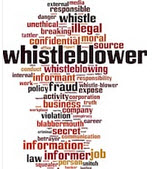 Earlier this year, the Securities and Exchange Commission (SEC) charged two individuals who profited from the illegal stock sales of a business that claimed to have a related blockchain business. Blockchain business investments and initial coin offerings can be risky, so much so that the SEC has issued multiple investor bulletins in the past warning investors to do their research before becoming a victim of investment fraud.
Understanding Initial Coin Offerings and blockchain technology itself are important because of the increased risk of fraudulent activity. This also opens the door for whistleblowers who witness behavior and activities related to cryptocurrency practices that are fraudulent.
Initial Coin Offerings
ICOs are becoming popular options for businesses to raise capital or take part in investment opportunities.  This new technology brings new challenges and chances for fraud because they aren't subject to the same stricter regulations as traditional capital markets.
Financial market experts are expected to research and understand the risks before recommending these investments to their investors. If there are digital assets being traded as securities and they operate as an "exchange" as defined under federal securities laws, then the platform is required to register with the SEC as a national securities exchange or become exempt from registration.
Financial professionals should use extreme caution when recommending or promoting these without first determining whether securities laws apply to the transactions. For those who operate platforms that facilitate or effect these types of transactions, it's important to know that you could be operating exchanges that violate the Securities Exchange Act of 1934.
SEC's Mock ICO Website
The SEC even set up a fake ICO website to educate financial investors and businesses on what the classic signs of fraud are in regard to Initial Coin Offerings. The website includes a number of misleading details and claims of guaranteed returns. Anyone who clicks on the "buy coins now" button is then transferred to the Investor.gov website that talks about all the classic signs of fraud and how you could have been scammed.
Potential red flag warnings include:
Guaranteed returns
Celebrity endorsements
Purchase by credit card
Claims SEC compliant
Pump and dump scam

Contacting a Florida Whistleblower Attorney
Like other areas of financial fraud, whistleblowers who disclose fraud related to ICOs may be eligible for SEC whistleblower rewards. The SEC whistleblower program has been successful at helping them protect investors in addition to putting a stop to various ongoing financial fraud schemes.
If you suspect blockchain fraud, it's imperative you speak to a Florida SEC whistleblower attorney right away. Whistleblower claims are extremely complex, and if not handled correctly, you could lose your chance at receiving an award. If you have already reported suspected fraudulent activity and you were fired in retaliation, you may have protections available under the whistleblower program as well.
To find out whether you qualify for a SEC whistleblower reward or protections, contact the skilled team at Rabin Kammerer Johnson, in West Palm Beach at 561-659-7878. Let one of our knowledgeable SEC whistleblower attorneys evaluate your case and determine whether you have a viable whistleblower claim.
Resource:
sec.gov/news/press-release/2018-126