How to Expel an LLC Member in Florida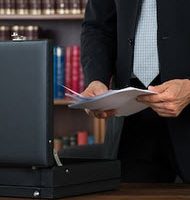 As an LLC member, you might be wondering if the law allows you to expel another member. Yes, Florida law allows for the expulsion of an LLC member in limited cases. There are certain circumstances that must apply pursuant to the Florida Revised Limited Liability Company Act, known as the "Revised Act."   Outside the circumstances set forth in the Revised Act , a well-drafted LLC operating agreement can also provide options for expelling a member.
Removal Based on LLC Operating Agreement
When the LLC operating agreement provides for expulsion as a remedy for a member's misconduct, this often will be the simplest form of removal.   This is why it's important to have an operating agreement for your LLC.
Removal Based on a Unanimous Vote of the LLC's Members in Limited Circumstances
If your LLC operating agreement doesn't have any provisions governing expulsion, or your LLC lacks an operating agreement, the Revised Act will apply.  Under the Revised Act, a unanimous vote of the members may be sufficient to remove a member in certain circumstances.   These include:It would be unlawful to continue the LLC's business activities if this individual was still a member;
The member's entire transferable interest in the business has been transferred, unless the transfer was pursuant to a charging order or for security purposes; or
The member is another entity that has been dissolved.
Removal Based Upon the Member's Wrongful Conduct and Judicial Order
The other method to seek the expulsion of an LLC member is through a court action resulting in a judicial order of explusion.   A judicial order expelling an LLC member is proper where the LLC member has engaged in wrongful conduct, including the following:
The member has willfully or persistently committed some type of material breach of the business's operating agreement;
The member breached the fiduciary duties of care or loyalty;
The member was engaged in wrongful conduct that materially and adversely affected the LLC's activities;
The member was engaged in conduct that relates to the LLC's affairs and activities that makes it not practicable to keep the person on as an LLC member.
Retaining a Florida Business Litigation Attorney to Handle Your Claim to Expel a Member
If you want to initiate expulsion proceedings against an LLC member, whether it's enforcing a provision of the LLC's operating agreement or a remedy under the Revised Act, the LLC member-dispute lawyers at Rabin Kammerer Johnson can assist you. Our lawyers are specialists in complex business litigation, including LLC breakups and other business "divorces".  Contact our West Palm Beach office at 561-659-7878 today to schedule a consultation.